Technical Lead / Strategy / Projekte / IT (m/w/d)
Beyond Bookings
Merken
share
Technical Lead / Strategy / Projekte / IT (m/w/d)
Merken
share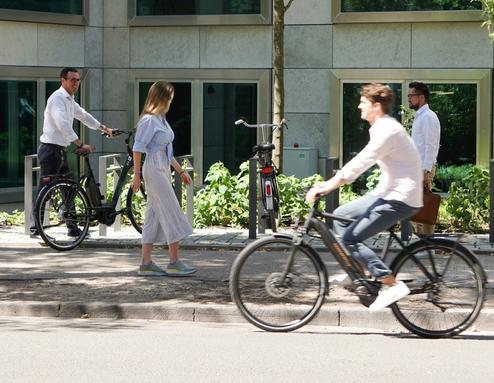 Deine Aufgaben:
Du baust den Tech-Stack von Grund auf, damit unser Geschäftsmodell schnell skalieren kann
Du entwickelst unsere Tech-Roadmap zusammen mit den Co-Foundern
Du triffst fundierte Buy- vs. Build-Entscheidungen, um eine nahtlose Tech-Infrastruktur und eine Basis für uns aufzubauen (z.B. Implementierung eines CRM-Systems, ERP-Systems, etc.)
Du arbeitest eng mit dem Non-Tech-Team zur Gestaltung der Geschäftsstrategie
Du verbesserst kontinuierlich die Customer Experience durch neue Technologie- und Softwarefunktionen
Wir bieten:
35 jobDetails.hours.until 40 jobDetails.hours.hours jobDetails.hours.perWeek
jobDetails.mobilityFlexible.with
jobDetails.projectAvailability.fromNow jobDetails.projectAvailability.searched
jobDetails.leadershipExperience.without
jobDetails.workExperience.with
Flexible Arbeitszeiten und attraktives Fixgehalt
Die Möglichkeit im Home Office zu arbeiten - mit regelmäßiger Anwesenheit
Ein Team das voll hinter Dir steht und zum Lachen nicht in den Keller geht
Verantwortung ab Tag 1
Ergreife die Chance, die Zukunft eines Unternehmens und deine Karriere grundlegend zu gestalten
Wähle die Hardware und Software Tools, die du brauchst und mit denen du dich am wohlsten fühlst
Mitarbeiterrabatte
Zusätzliche Urlaubstage
Projektverantwortung
Faire Vergütung
Agiles Arbeiten
Regelmäßige Feedbackgespräche
Verpflegungszuschuss
Flache Hierarchien
Startupflair
Dein Profil:
Bachelor- oder Masterabschluss in Informatik oder ähnlichem
2+ Jahre Erfahrung in der Softwareentwicklung, idealerweise im Bereich B2B und/oder Tourismus
Erfahrung in der Arbeit in funktionsübergreifenden Softwareentwicklungsteams und Verantwortungsbewusstsein für Projekte
Ein tiefes Verständnis für die "Business-Seite" und Kenntnisse Geschäftsanforderungen in befähigende und skalierbare Software zu übersetzen
Strukturierte, datengetriebene Arbeitsweise und gute zwischenmenschliche Fähigkeiten
Fließende Deutsch- und Englischkenntnisse
infoRequirements.languages
infoRequirements.competencies
Administration & Verwaltung
infoRequirements.knowledge
aboutCompany.title.about Beyond Bookings
1-24 Mitarbeiter
Sport & Tourismus
Startup
Frankfurt am Main
Wir sind ein dynamisches Travel Startup mit der Mission Hotels ohne finanziellen oder personellen Aufwand einen Mehrwert zu schaffen und gleichzeitig ihre Auslastung zu erhöhen. Unterstützt von prominenten Business Angels aus der Reise und Technologiebranche, verstehen wir die Herausforderungen der Hotels, bei denen Gäste verstärkt nach Erlebnissen suchen anstatt nach einer einfachen Schlafmöglichkeit, während Hotels jedes Jahr 30% leerstehende Zimmer haben. Unser Geschäftsmodell basiert auf einem einfachen und effizienten Prinzip: Mit einem innovativen Tauschkonzept erhalten Hotels Mehrwerte wie E Mobilität für freie Zimmerkapazitäten, die wir wiederum über Online Vertriebskanäle vermarkten. Unser Modell wird zudem vom Bundesministerium für Wirtschaft und Energie gefördert.
Unser Standort
Unser Büro ist direkt in der Frankfurter Innenstadt und mit öffentlichen Verkehrsmitteln sehr gut erreichbar.
Fahrradstellplätze
Gute Anbindung an ÖPNV
Innenstadtlage
Restaurants in der Umgebung
Supermarkt in der Umgebung
questionsAndAnswers.title
questionsAndAnswers.content.aboutCampusjaeger.question
Campusjäger is more than a job exchange. We support you and our partner companies to find each other. Companies advertise job offers through us, as a candidate you can quickly and easily apply for many different jobs with your Campusjäger profile. We always have one goal in mind: to bring you together with the job that really suits you.
questionsAndAnswers.content.jobAvailability.question
questionsAndAnswers.content.jobAvailability.answer
questionsAndAnswers.content.applicationDocuments.question
That depends entirely on the job you are applying for. In many cases it is sufficient to upload your PDF resume or fill out your Campusjäger profile.
questionsAndAnswers.content.documentsUpload.question
You can upload any documents you want to add to your application to your Campusjäger profile. Companies to which you apply allow access to the information in your profile with your application.
questionsAndAnswers.content.applyWithoutResume.question
In order to get a comprehensive first impression of you, the company needs a CV from you. You only have to upload it once and not for every new application. If you do not have a PDF resume, you can simply fill out your Campusjäger resume. Alternatively you can export your XING or LinkedIn profile as a PDF file.
questionsAndAnswers.content.moreInfoAboutCompany.question
questionsAndAnswers.content.myApplicationProcess.question
You can process your application until you have been invited for an interview. Just go to your applications and select the application you want to work on. There you have the possibility to view and change all your details. In addition, you can add further information and documents to your Campusjäger profile at any time, which the company will then have in addition to evaluating your application.
questionsAndAnswers.content.applicationNews.question
In your application overview, you can always keep track of the application process. As soon as something new happens, we will inform you immediately. To make sure you don't miss anything, we will also send you e-mails about the most important status changes.
questionsAndAnswers.content.multipleApplications.question
The number of your applications is not limited. An overview of your applications can be found here.
questionsAndAnswers.content.applicationsSafety.question
questionsAndAnswers.content.applicationsSafety.answer
questionsAndAnswers.content.contactCompanyDirectly.question
The company will contact you once your application has been reviewed. If you have any questions beforehand, your personal Candidate Manager from Campusjäger will be happy to help you.
questionsAndAnswers.content.foreignApplicant.question
questionsAndAnswers.content.foreignApplicant.answer
questionsAndAnswers.content.nonGermanSpeaker.question
Please take into account the job's language requirements and make sure the requirements match your skills. It is also helpful to provide language certificates. This article may support you during the application process.
questionsAndAnswers.content.meetingTheRequirements.question
questionsAndAnswers.content.meetingTheRequirements.answer
Our job offerTechnical Lead / Vollzeit / IT / Software / CRM (m/w/d) sounds promising? We're looking forward to your application.
Der Job passt doch nicht ganz zu dir? Wir haben noch mehr im Angebot...