Interactive Labeling of Scan Segmentations
ISSD - KIT
Bachelor's or Master's Thesis with the goal to design and develop an interactive labelling system for segmentation of advertisements from scanned newspaper archives.
WHO CAN APPLY? Only enrolled students from KIT (Karlsruher Institut für Technologie) with course of studies Wirtschaftsinformatik, Wirtschaftsingenieurwesen, Informationswirtschaft, or Technische Volkswirtschaftslehre.
Ohne Anschreiben. In nur 2 Minuten.
Merken
Teilen
Das Unternehmen antwortet besonders schnell.
Interactive Labeling of Scan Segmentations
Ohne Anschreiben. In nur 2 Minuten.
Merken
Teilen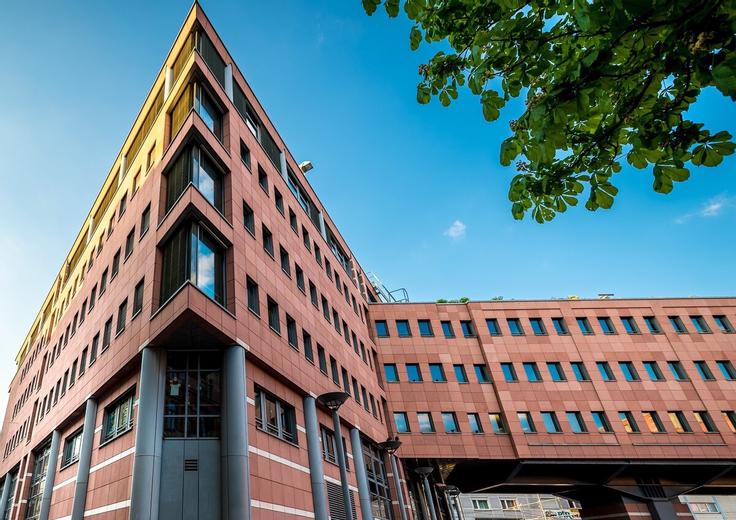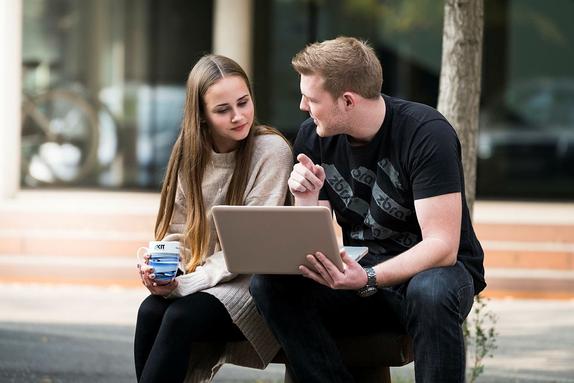 Problem
As the digitization of the worlds libraries and print archives continues steadily, the demand for automated processing of such documents grows. Hereby, resarchers and practicioners would like to digitally process such documents with tools from computer vision (CV) and optical character recognition (OCR). Further they would like to search and filter for certain document meta-data. However, all of this presumes the availablity of such extracted features and meta-data. As state-of-the-art machine learning (ML) classifiers still do not reach desired accuracy levels, especially on old documents or those from fringe contexts, manual labeling effort is required.
Requirements
30 bis 40 Std. pro Woche
Ab sofort gesucht
Ohne Personalverantwortung
We expect the student to be familiar with web development. The system should be devloped with a modern web application frontend framework (e.g. Vue with Vuetify) or be forked from an existing open source segmentation system. Further we expect the model to be trained based on standard Python frameworks. Experience in this regard is required as well.
Agiles Arbeiten
Regelmäßige Feedbackgespräche
Goals
For the scope of this thesis, we limit the context to segmenting advertisements from scanned pages of newspapers and magazines. This poses an interesting use-case for, for instance, advertising researchers. Associated colleagues at the University of Mannheim (UniMA) have already manually created a labeled set of 9000 segmented pages of the US magazine "The Economist", ranging from the 1840s to today. We expect a thesis student to develop an interactive labeling system in order to support the extension of this segmentation traing data-set to many more pages. Interactive labeling hereby strives to combine automatic steps (e.g. the trained model) with incremental user input. The work-packages entail:
analyzing the state-of-the-art of such segmentation tools
exchange with the researchers at UniMA that created the training data-set regarding requirements and system evaluation
development of an interactive labeling system as part of a design science research process

train a ML classifier based on the existing training data
(potentially) include more training data from free data-sets
develop an interactive labeling tool that integrates the ML classifier with manual segmentation
include novel interaction paradigms with the existing ML classifier into the tool (manually reviewing those instances in which the model was uncertain, retraining the model based on new user input, ...)

writing a thesis document according to research group requirements & participation in our thesis colloquium
Design science research is a well established methodology in the information systems field, which deals with the scientific view on artifacts, such as the labeling system that should be developed during this thesis. Hereby so called design knowledge can be derived from the development process and the finished artifact.
Interessengebiete
Webentwicklung (Frontend)
Kenntnisse und Fähigkeiten
Über ISSD - KIT
1825 gegründet
500+ Mitarbeiter
Bildung
Global Player
Karlsruhe
The research group "Information Systems & Service Design" (ISSD) headed by Prof. Mädche focuses in research, education, and innovation on designing interactive intelligent systems. The research belongs to the Institute of Information Systems and Marketing (IISM) and is embedded into the Information Systems & Engineering group. ISSD is also part of the Karlsruhe Service Research Institute (KSRI). The research group is positioned at the intersection of Information Systems (german: Wirtschaftsinformatik) and Human-Computer Interaction (HCI). Our mission is to create impactful scientific knowledge for designing interactive intelligent systems that enable humans to perform activities more efficiently, effectively, and meaningful. We believe that delivering cutting-edge knowledge and inspiring education, as well as an ongoing dialog with the public need to go hand in hand to maximize the impact of our work in organizations and society. The group is organized in three research departments: Digital Experience & Participation, Intelligent Enterprise Systems, and Digital Service Design & Innovation. Current topics of research are Human-AI Interaction, Cognitive Interaction Technologies, Physiological Computing Systems, Interactive Business Intelligence & Analytics Systems, and Interactive Systems Engineering.
Mehr über das Unternehmen erfahren
Unser Standort
Supermarkt in der Umgebung
Restaurants in der Umgebung
Fahrradstellplätze
Innenstadtlage
Gute Anbindung an ÖPNV
Häufige Fragen
Wer oder was ist Campusjäger?
Campusjäger ist mehr als eine Jobbörse. Wir unterstützen dich und unsere Partnerunternehmen dabei, zu einander zu finden. Unternehmen schreiben Jobangebote über uns aus, als Kandidat kannst du dich schnell und einfach mit deinem Campusjägerprofil auf viele verschiedene Jobs bewerben. Dabei haben wir immer ein Ziel vor Augen: Dich mit dem Job zusammen zu bringen, der wirklich zu dir passt.
Ist der Job, den ich sehe, überhaupt noch verfügbar?
Ja, alle Jobs die du auf unserer Plattform findest, sind noch zu besetzen.
Welche Dokumente benötige ich für meine Bewerbung?
Das hängt ganz vom Job ab, auf den du dich bewirbst. Häufig reicht es schon aus, wenn du deinen PDF Lebenslauf hochlädst bzw. dein Campusjägerprofil vollständig ausfüllst.
Wo kann ich meine Unterlagen bzw. Dokumente hochladen?
Sämtliche Unterlagen, die du deiner Bewerbung hinzufügen willst, kannst du in dein Campusjägerprofil hochladen. Unternehmen, bei denen du dich bewirbst, gestattest du mit deiner Bewerbung Zugriff auf die Informationen in deinem Profil.
Kann ich mich auch ohne Lebenslauf bewerben?
Um einen möglichst umfassenden ersten Eindruck von dir zu erhalten, benötigt das Unternehmen von dir einen Lebenslauf. Diesen musst du auch nur einmal und nicht für jede Bewerbung aufs Neue hochladen. Wenn du noch keinen PDF Lebenslauf hast, kannst du einfach deinen Campusjäger Lebenslauf ausfüllen. Alternativ hast du die Möglichkeiten dein XING oder LinkedIn Profil als PDF Datei zu exportieren.
Wo finde ich weitere Informationen zum Unternehmen?
Im Unternehmensprofil von ISSD - KIT findest du weitere Informationen.
Kann ich meine Bewerbung nachträglich bearbeiten?
Du kannst deine Bewerbung solange bearbeiten, bis du zu einem Vorstellungsgespräch eingeladen wurdest. Gehe dazu einfach in deine Bewerbungen und wähle die Bewerbung aus, die du bearbeiten möchtest. Dort hast du die Möglichkeit, alle deine Angaben anzusehen und zu verändern. Außerdem kannst du dein Campusjägerprofil jederzeit um weitere Informationen und Unterlagen ergänzen, die dem Unternehmen dann zusätzlich zur Beurteilung deiner Bewerbung vorliegen.
Wie bekomme ich Neuigkeiten zu meiner Bewerbung mit?
In deiner Bewerbungübersicht hast du jederzeit einen Überblick über den Bewerbungsverlauf. Sobald etwas Neues passiert, informieren wir dich umgehend darüber. Damit du auch sicher nichts verpasst, senden wir dir zusätzlich E-Mails zu den wichtigsten Statusänderungen.
Kann ich auch mehrere Bewerbungen gleichzeitig abschicken?
Die Anzahl deiner Bewerbungen ist nicht limitiert. Einen Überblick über deine Bewerbungen findest du hier.
Können andere Unternehmen sehen, wo ich mich noch beworben habe?
Nein, Unternehmen können immer nur Bewerbungen für sich selbst sehen.
Kann ich den Ansprechpartner des Unternehmens auch direkt kontaktieren?
Das Unternehmen kommt auf dich zu, sobald deine Bewerbung angesehen wurde. Solltest du vorher Fragen haben, hilft dir gerne dein persönlicher Candidate Manager von Campusjäger weiter.
What do I have to consider, if I am not from Germany?
Please make sure to provide all necessary documents within your Campusjäger profile. It should include an EU work-permit (if you have no EU citizenship) and a CV at least. Be aware of different employment types in Germany. Depending on the position you are applying to, you could also be asked for a certificate of enrollment and a transcript of records.
What do I have to consider, if German is not my mother tongue?
Please take into account the job's language requirements and make sure the requirements match your skills. It is also helpful to provide language certificates. This article may support you during the application process.
Ich glaube, ich erfülle nicht alle Anforderungen. Kann ich mich trotzdem bewerben?
Oft können nicht erfüllte Anforderungen durch andere Fähigkeiten ausgeglichen werden. Wenn du daher die eine oder andere Anforderungen nicht vollständig erfüllst, ist es dennoch einen Versuch wert. Solltest du allerdings viele oder sogar alle Anforderungen nicht erfüllen, ergibt eine Bewerbung wenig Sinn.
If you are interested in this topic and want to apply for this thesis, please apply via Campusjäger.
Ohne Anschreiben. In nur 2 Minuten.
Der Job passt doch nicht ganz zu dir? Wir haben noch mehr im Angebot...