Data Scientist Business Intelligence - Warehouse (m/w/d)
We are looking for an experienced Data Warehouse Engineer (m/f/d) to join our team in Berlin. As a Data Warehouse Engineer, you should be able to manage BI solutions that turn data into knowledge.
For this role, you will work closely with the technical department, as well as, with the product department to identify business requirements and create sustainable reporting solutions using SQL/NoSQL system, event processing such as Pulsar, Kafka and others.
You should have a background in data and business analysis, as you will be responsible to perform analysis and data extraction and manipulation. In addition to technical skills, this position will require interpersonal skills. Thus, we are interested to hire a candidate who is analytical and an excellent communicator.
Merken
Teilen
Data Scientist Business Intelligence - Warehouse (m/w/d)
Merken
Teilen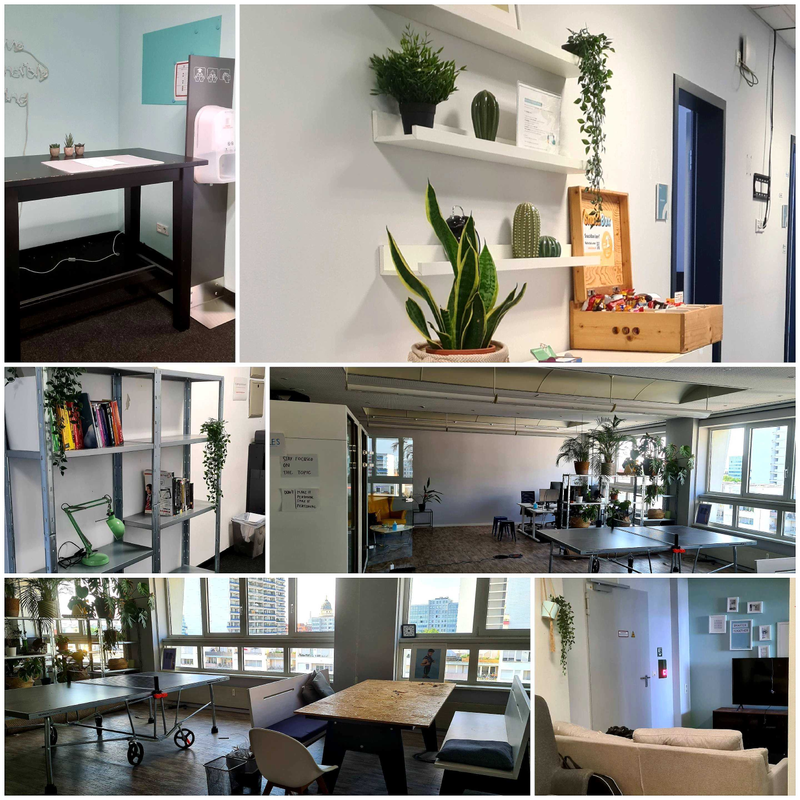 Your responsibilities
You will design, develop and deploy business intelligence solutions
You will develop and improve BI systems
You will collaborate with different teams to integrate systems for the successful result
You will execute data warehouses, data mining models, operational lists and reports
You will present information through reports and visualization
You will translate business needs to technical specifications and to be able to produce functional technical documentation
You will establish and maintain quality assurance processes
You will create or discover new data processing programs
You will analyse business processes and data to overcome business-related problems
What we offer
35 bis 40 Std. pro Woche
Ab sofort gesucht
Ohne Personalverantwortung
Mit Berufserfahrung
Be part of an international, ambitious, and successful team, working with experienced people from the start-up-world
Flat hierarchies, as well as short and open channels of communication
High degree of freedom and responsibility
An opportunity to shape the face of a product that may enhance the life of millions of people
The possibility of making a direct impact on tech and architectural settlements
Work in a newly designed office in Berlin Centre with great coffee and a daily selection of soft drinks including Club Mate. Regular team and company events are currently restricted due to Corona, but we offer alternatives.
Hands-on practical experience in an early-stage start-up
All the equipment you need like a brand-new Mac or Windows Laptop, screens, etc.
Ergonomic chairs and standing desks
Budget for your professional development on the Udemy platform
Discount on Allianz insurances and pension scheme
Betriebsarzt
Elternzeit
Mitarbeiterrabatte
Sport- und Erholungsangebote
Betriebliche Gesundheitsförderung
Mitarbeiter-Anteile
Agiles Arbeiten
Flache Hierarchien
Onboarding Programm
Regelmäßige Feedbackgespräche
Wechselnde Teams
Bezahlte Weiterbildung
Kostenlose Kursangebote
Musik am Arbeitsplatz erlaubt
Betriebliche Altersvorsorge
Faire Vergütung
Zusätzliche Urlaubstage
Coaching-Angebote
Förderung von Mitarbeiterinitiativen
Projektverantwortung
Startupflair
Your profile
You have Bachelors degree in Business Intelligence, Computer Science, Engineering or relevant field
You bring along a proven record of 3+ years experience as a Data Warehouse or Business Intelligence Developer or Data Scientist (m/f/d)
You preferably already have Healthcare industry experience
You know the background of data warehouse design, data mining and data manipulation
You show a good understanding of database management systems, NoSQL, event processing, MapReduce.
You are familiar with Business Intelligence technologies
You know about the usage of SQL, NoSQL, MapReduce and event processing
You stand out with you solid data visualization skills
You demonstrate initiative and independence
You think analytical with a problem-solving attitude to support effective decisions
Kenntnisse und Fähigkeiten
Über uns
2017 gegründet
50-99 Mitarbeiter
Gesundheits- & Sozialwesen
Startup
Berlin
We are on a mission to build the leading digital health platform for personalized interaction towards better health. We connect people to the services they need to manage, improve and optimize their health. Based in Berlin/Germany, backed by Allianz (the world's largest insurance company), we want to shape the future of healthcare.
Mehr über das Unternehmen erfahren
Unser Standort
We are located in the heart of Berlin close to Checkpoint at Schützenstraße 18, 10117 Berlin. Close by you will find public transport
Fahrradstellplätze
Gute Anbindung an ÖPNV
Innenstadtlage
Restaurants in der Umgebung
Supermarkt in der Umgebung
Öffentlicher Parkraum
Häufige Fragen
Wer oder was ist Campusjäger by Workwise?
Campusjäger gehört zu Workwise – einer Jobplattform, die dich über den gesamten Karriereweg unterstützt. Wir übernehmen das Recruiting für verschiedene Unternehmen und begleiten dich im gesamten Bewerbungsprozess. Über Campusjäger by Workwise findest du Jobs für Studierende und Absolvent:innen. Deine Bewerbungen verwaltest du in deinem Workwise-Profil. Erfahre hier mehr über den Zusammenhang von Workwise und Campusjäger.
Ist der Job, den ich sehe, überhaupt noch verfügbar?
Bei Jobs, die noch zu besetzen sind, kannst du auf den Button 'Jetzt bewerben' klicken. Ist dies nicht möglich, wurde der Job bereits besetzt oder vorübergehend deaktiviert.
Welche Dokumente benötige ich für meine Bewerbung?
Das hängt ganz vom Job ab, auf den du dich bewirbst. Häufig reicht es schon aus, wenn du deinen PDF Lebenslauf hochlädst bzw. dein Workwise-Profil vollständig ausfüllst.
Wo kann ich meine Dokumente hochladen?
Deine Bewerbungsunterlagen kannst du in deinem Workwise-Profil hochladen. Diese können nur von Unternehmen eingesehen werden, bei denen du dich bewirbst.
Wo finde ich weitere Informationen zum Unternehmen?
Kann ich meine Bewerbung nachträglich bearbeiten?
Ja, das ist möglich. In deiner Bewerbungsübersicht kannst du deine Angaben einsehen und Änderungen vornehmen. Bist du bereits zu einem Vorstellungsgespräch eingeladen, ist die Bearbeitung nicht mehr möglich. Du kannst aber weiterhin in deinem Workwise-Profil allgemeine Informationen ergänzen und weitere Dokumente hochladen.
Wie werden mir Neuigkeiten zu meiner Bewerbung mitgeteilt?
In deiner Bewerbungsübersicht bei Workwise hast du jederzeit einen Überblick über den Bewerbungsverlauf. Zusätzlich senden wir dir E-Mails zu den wichtigsten Statusänderungen.
Kann ich mich auch auf mehrere Jobs gleichzeitig bewerben?
Die Anzahl deiner Bewerbungen ist nicht limitiert. Einen Überblick über deine Bewerbungen findest du bei Workwise.
Können andere Unternehmen sehen, wo ich mich noch beworben habe?
Nein, Unternehmen können nur ihre eigens eingegangenen Bewerbungen sehen.
Kann ich den/die Ansprechpartner:in des Unternehmens direkt kontaktieren?
Eine persönliche Kontaktaufnahme ist über den Chat möglich, sobald du zu einem Vorstellungsgespräch eingeladen wurdest. Zuvor erhältst du alle wichtigen Statusänderungen per E-Mail. Bei Rückfragen kannst du dich an deine/n persönliche/n Candidate Manager:in von Workwise wenden.
Ich glaube, ich erfülle nicht alle Anforderungen. Kann ich mich trotzdem bewerben?
Auch wenn du nicht alle Anforderungen erfüllst, kannst du fehlende Kenntnisse durch weitere Fähigkeiten ausgleichen. Nutze die Bewerberfragen, um auf deine Motivation einzugehen und zeige dem Unternehmen, warum du dennoch auf den Job passt. Solltest du viele oder alle Anforderungen nicht erfüllen, wird die Bewerbung nicht erfolgreich sein.
What do I have to consider if I am not from Germany?
Please make sure to provide all necessary documents within your Workwise profile. It should include an EU work-permit (if you have no EU citizenship) and a CV at least. Depending on the position you are applying to, you could also be asked for a certificate of enrollment, a transcript of records or a language certificate. We would also recommend to inform yourself thoroughly in advance about visa regulations. Therefore you can use the official visa navigator from the Federal Foreign Office.
What do I have to consider if German is not my mother tongue?
Please take into account the job's language requirements and make sure the requirements match your skills. In the job search you can use the language filter to find jobs without German language requirements. It is also helpful to provide language certificates. This section in our help center may support you during the application process.
Unser Jobangebot Data Scientist Business Intelligence - Warehouse (m/w/d) klingt vielversprechend? Dann freuen wir uns auf deine Bewerbung.