Duales Studium - Projektmanagement / Supply Chain (m/w/d)
Our cooperation partner Quyntess has achieved a leading position in Supply Chain Collaboration, delivering innovative Platform-as- a-Service solutions on the cutting edge of supply chain management, supply chain integration, app and web technology. With a clear focus on integrated collaborative planning and execution processes with all involved partners in the Order-to-Cash, Procure-to-Pay and e-Logistics business processes, we have established a growing international customer base. Our target market consists of larger and global companies, with current customers such as Volkswagen, MAN Truck & Bus, Danone, PepsiCo, UPS and GKN Technologies.
Quyntess solutions are delivered in the form of apps on cloud-based platforms such as Tradeshift and SAP HANA Cloud. For the next stage of our growth we want to increase our impact through the outbound marketing function.
Location: In order to successfully cooperate with our Cologne and Frankfurt am Main based project Managers, a person from these Areas is preferred.
Ohne Anschreiben. In nur 2 Minuten.
Merken
Teilen
Duales Studium - Projektmanagement / Supply Chain (m/w/d)
Ohne Anschreiben. In nur 2 Minuten.
Merken
Teilen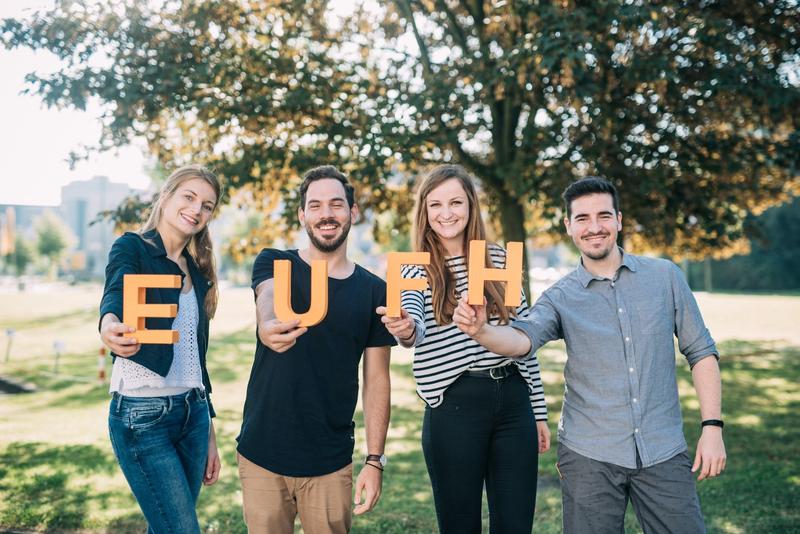 Summary of activities of your job description:
You are seeking will actively participate in the project teams to deliver our supply chain solutions at our clients, supported by the Quyntess teams responsible for solutions delivery. The focus will be on German / DACH customers. Our teams typically consist of a project manager, solution architect, senior consultant, software engineer and other technical roles. The projects are usually managed with together with the counterpart in the customer organization and his team. You will be actively coached by your colleagues to ensure a quick integration in the existing projects so you can be of value as soon as possible. As a consultant you can expect extensive trainings by your colleagues to take over more responsibility over time and to grow into the role of a project manager.
Be part of the team during the successive phases of an implementation project: master design, configuration & integration, testing and training
Get involved with the content of the project and act as a sparring partner for the customer and your colleagues
Manage the scope of the project, the project plan and resources involved to deliver the project with usual techniques and tools
Engage with 3rd party service providers involved in the project on our behalf or on behalf of the customer and manage the agreed handovers
Assuring quality control is applied to provide customers with perfectly performing supply chain solutions
Act as a first point of contact for both organizations to resolve any issues and coordinate handovers to the support organization
Act as a missionary in the customer organization, scouting new project opportunities and develop proposals for follow-on business with existing customers
Support colleagues in new customer engagements such as Concept Creation, Proof of Concept or Pilots
We Offer:
35 bis 40 Std. pro Woche
Ab 01.04.2022 gesucht
Ohne Personalverantwortung
Quyntess constitute a real team with highly professional background, delivering support and services to blue chip clients. We consider it a challenge to be among the first to apply new business concepts and integrate the latest software technologies such as Platform as a Service (PaaS) and Integration as a Service (INTaaS) technologies from different partner solution providers. Our team thrives on sharing knowledge and working together in an informal atmosphere to deliver appropriate solutions for complex problems. Apart from on-the-job training there are ample opportunities for professional training courses. Compensation and other benefits Quyntess offers excellent primary and secondary compensation schemes in relation to your skills and experience. Apart from on-the-job training and an intensive coaching over the first time there are ample opportunities for professional training courses. Depending on the candidate's ambitions and performance, excellent career perspectives can be provided.
To be successful in this position we expect:
You have a background in supply chain management
You typically have a Bachelor or Master degree in Operations, Logistics or IT, preferably with focus on logistics or supply chain management
You have a hands-on mentality and take pride in getting supply chain projects done successfully
Respect for structured project management and solution development, knowledge of up to date methodologies and techniques such as SCRUM, ITIL, Use Cases etc.
A personality that favors a team with multiple disciplines and international background and that is used to a work with a healthy level of pressure to perform
Availability to travel within, and sometimes outside of Europe to support international supply chain projects
Adequate ability to express yourself verbally and in writing in German and English; Documents you write are in clear and precise language
Highly developed interpersonal communication skills to live up to our reputation: Excellence in supply chain collaboration
Kenntnisse und Fähigkeiten
Über uns
2001 gegründet
100-249 Mitarbeiter
Bildung
Mittelständler
Brühl
Wer heute bei uns studiert, ist spätestens morgen ein vollwertiger und vielfältig einsetzbarer junger Mitarbeiter. Die ganzheitliche Berufsbefähigung ("Employability") unter Berücksichtigung individueller Neigungen und Fähigkeiten ist dabei unser Ziel - gemeinsam schaffen wir Erfolgspartnerschaften für Unternehmen und Studierende in unseren verschiedenen Hochschulbereichen. Was wir damit meinen? Theoretische Lerninhalte und praktisches Arbeiten finden ihre perfekte Verbindung und laufen nie nur einfach nebeneinander her. Möglich ist das durch einige fest in das Studium integrierte Elemente zur Praxisreflexion, wie es sie in ihrer Ganzheitlichkeit an anderen Hochschulen wohl kaum gibt. Die persönliche Betreuung für Dein passendes Unternehmensmatching steht dabei für uns von Anfang an im Vordergrund - von der individuellen Beratung bis hin zur Betreuung bei der Suche nach einem für Dich passenden Praxispartner. Bist Du bereit für Theorie + Praxis?
Mehr über das Unternehmen erfahren
Unser Standort
Studieren kannst Du an einem der zahlreichen Standorte der EUFH. Zum Beispiel in Aachen, Berlin, Brühl, Köln, Neuss, Rheine, Rostock oder Solingen.
Gute Anbindung an ÖPNV
Gute Autobahnanbindung
Restaurants in der Umgebung
Supermarkt in der Umgebung
Häufige Fragen
Wer oder was ist Campusjäger by Workwise?
Campusjäger gehört zu Workwise – einer Jobplattform, die dich über den gesamten Karriereweg unterstützt. Wir übernehmen das Recruiting für verschiedene Unternehmen und begleiten dich im gesamten Bewerbungsprozess. Über Campusjäger by Workwise findest du Jobs für Studierende und Absolvent:innen. Deine Bewerbungen verwaltest du in deinem Workwise-Profil. Erfahre hier mehr über den Zusammenhang von Workwise und Campusjäger.
Ist der Job, den ich sehe, überhaupt noch verfügbar?
Bei Jobs, die noch zu besetzen sind, kannst du auf den Button 'Jetzt bewerben' klicken. Ist dies nicht möglich, wurde der Job bereits besetzt oder vorübergehend deaktiviert.
Welche Dokumente benötige ich für meine Bewerbung?
Das hängt ganz vom Job ab, auf den du dich bewirbst. Häufig reicht es schon aus, wenn du deinen PDF Lebenslauf hochlädst bzw. dein Workwise-Profil vollständig ausfüllst.
Wie sieht der Bewerbungsprozess nach meiner Bewerbung aus?
Once your application documents have been received, the first feedback will take place after about 3 weeks. This is followed by a get to know the EUFH and the partner company
Wo kann ich meine Dokumente hochladen?
Deine Bewerbungsunterlagen kannst du in deinem Workwise-Profil hochladen. Diese können nur von Unternehmen eingesehen werden, bei denen du dich bewirbst.
Wo finde ich weitere Informationen zum Unternehmen?
Kann ich meine Bewerbung nachträglich bearbeiten?
Ja, das ist möglich. In deiner Bewerbungsübersicht kannst du deine Angaben einsehen und Änderungen vornehmen. Bist du bereits zu einem Vorstellungsgespräch eingeladen, ist die Bearbeitung nicht mehr möglich. Du kannst aber weiterhin in deinem Workwise-Profil allgemeine Informationen ergänzen und weitere Dokumente hochladen.
Wie werden mir Neuigkeiten zu meiner Bewerbung mitgeteilt?
In deiner Bewerbungsübersicht bei Workwise hast du jederzeit einen Überblick über den Bewerbungsverlauf. Zusätzlich senden wir dir E-Mails zu den wichtigsten Statusänderungen.
Kann ich mich auch auf mehrere Jobs gleichzeitig bewerben?
Die Anzahl deiner Bewerbungen ist nicht limitiert. Einen Überblick über deine Bewerbungen findest du bei Workwise.
Können andere Unternehmen sehen, wo ich mich noch beworben habe?
Nein, Unternehmen können nur ihre eigens eingegangenen Bewerbungen sehen.
Kann ich den/die Ansprechpartner:in des Unternehmens direkt kontaktieren?
Eine persönliche Kontaktaufnahme ist über den Chat möglich, sobald du zu einem Vorstellungsgespräch eingeladen wurdest. Zuvor erhältst du alle wichtigen Statusänderungen per E-Mail. Bei Rückfragen kannst du dich an deine/n persönliche/n Candidate Manager:in von Workwise wenden.
Ich glaube, ich erfülle nicht alle Anforderungen. Kann ich mich trotzdem bewerben?
Auch wenn du nicht alle Anforderungen erfüllst, kannst du fehlende Kenntnisse durch weitere Fähigkeiten ausgleichen. Nutze die Bewerberfragen, um auf deine Motivation einzugehen und zeige dem Unternehmen, warum du dennoch auf den Job passt. Solltest du viele oder alle Anforderungen nicht erfüllen, wird die Bewerbung nicht erfolgreich sein.
What do I have to consider if I am not from Germany?
Please make sure to provide all necessary documents within your Workwise profile. It should include an EU work-permit (if you have no EU citizenship) and a CV at least. Depending on the position you are applying to, you could also be asked for a certificate of enrollment, a transcript of records or a language certificate. We would also recommend to inform yourself thoroughly in advance about visa regulations. Therefore you can use the official visa navigator from the Federal Foreign Office.
What do I have to consider if German is not my mother tongue?
Please take into account the job's language requirements and make sure the requirements match your skills. In the job search you can use the language filter to find jobs without German language requirements. It is also helpful to provide language certificates. This section in our help center may support you during the application process.
Unser Jobangebot Duales Studium - Projektmanagement / Supply Chain (m/w/d) klingt vielversprechend? Dann freuen wir uns auf deine Bewerbung.
Ohne Anschreiben. In nur 2 Minuten.