CASHLINK Technologies GmbH
We are – a financial technology company (fintech) based in Frankfurt am Main. We offer one of the leading software solutions for asset tokenization. Our clients benefit from all building blocks, services and licenses needed to issue tokenized securities and manage decentralized security registries. We are the winner of the FinTech Germany Award in the Category Blockchain and receives support from renowned investors such as the listed VC Finlab AG and the Maschmeyer Group. Are you ready to gain your own experience in one of the leading tokenization startups in Germany? Then we are the right people for you!
CASHLINK Technologie ...
CASHLINK Technologie ...
1-24 Mitarbeiter
IT
Startup
Frankfurt am Main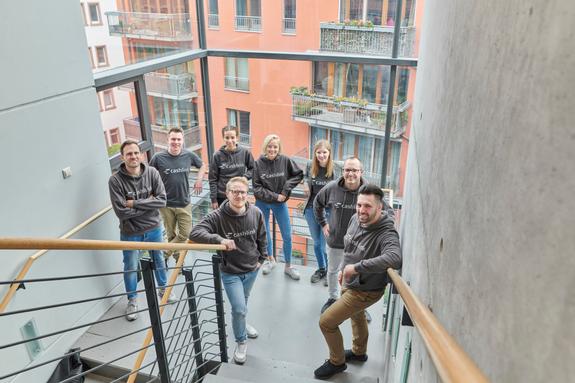 So arbeiten wir
The best thing about us? Our team. We know that in order to achieve high goals, you have to feel comfortable. This is why it is important for us to accommodate our team's needs to build a great working atmosphere! Our core values We love challenging problems: We love to solve complex, challenging problems. Challenge the status quo: We question everything and like to enter new terrain. Fairness and win-win situations: We prefer sustainable partnerships where everyone profits. Team before ego: We value the success of the team more than personal success. We are team players!
Arbeitsstil
Agiles Arbeiten
Design Thinking
Flache Hierarchien
Förderung von Mitarbeiterinitiativen
Onboarding Programm
Projektverantwortung
Startupflair
Wechselnde Teams
Team
Frauen in Führungspositionen
Lange Betriebszugehörigkeit
Legere Kleidung
Quereinsteiger willkommen
Sommerfest
Teamevents
Unser Standort
Quiet office with skyline view: One of the most beautiful offices in Frankfurt with a skyline view and rooftop terrace.
Fahrradstellplätze
Gute Anbindung an ÖPNV
Innenstadtlage
Restaurants in der Umgebung
Supermarkt in der Umgebung
Unser Büro
Aufzug
Erholungsräume
Spielmöglichkeiten
Laptop
Balkon oder Terasse
Kreativräume
Einzelbüros
Teambüros
Barrierefreiheit
Rückzugsräume
Homeoffice möglich
Vorteile bei uns
A steep learning curve and a lot of creative freedom to give you enough room to grow Working interdisciplinary in an ambitious team and regular team events Working in lean hierarchies - a lot of personal responsibility and room to grow
Gemeinsames Essen
Bezahlte Weiterbildung
Flexible Arbeitszeiten
Überstundenausgleich
Kaffee & Tee
Sabbatical möglich
Freie Wochenenden
Kaltgetränke
Mitarbeiter-Anteile
Vertrauensarbeitszeit
Klingt gut? Dann sieh dir schnell unsere aktuellen Jobs an.